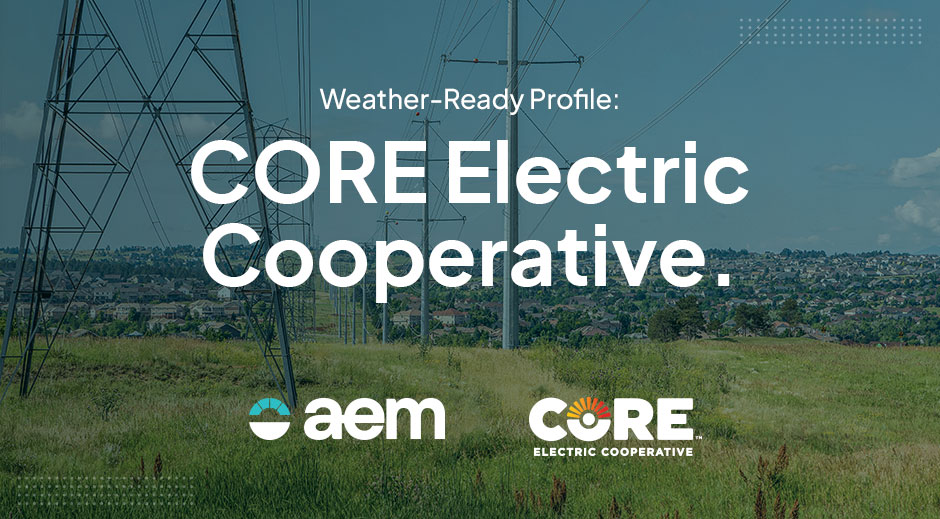 Wildfires are a growing challenge for power utilities, especially in the American West and Southwest. Over the last few years, providers have come under increased scrutiny for their role in mitigating wildfires and keeping communities safe, and insurance is getting harder and harder to obtain across the industry.
CORE Electric Cooperative, based in Colorado, is an example of an innovative service provider that's looking to deliver both maximum value and maximum safety to their nearly 170,000 members. Their COO, Pam Feuerstein, is an example of a proactive leader who's at the cutting edge of addressing the new challenges posed by wildfires.
Meet Pam Feuerstein, P.E., COO at CORE Electric Cooperative

Pam Feuerstein, P.E., is the Chief Operating Officer for CORE Electric Cooperative in Sedalia, Colorado. She is responsible for engineering, distribution and transmission operations, power supply, and safety for CORE. She also serves as the North American Electric Reliability Corporation (NERC) Compliance Offer and Critical Infrastructure Protection (CIP) Senior Manager.
Ms. Feuerstein joined CORE in 2010 as the System Planning Manager and later served as the Engineering Manager. Prior to CORE, she worked for an engineering consulting firm, Stanley Consultants, for over 15 years, with a focus on electric infrastructure design for electric utilities.
To watch our full sit-down interview with Pam, click here.
Pam's wildfire challenge
In her capacity as COO at CORE, Pam is responsible for the coordination of teams of employees and contractors throughout the cooperative's 5,000-square-mile service area, including their response to and communications about weather-related challenges, like wildfires.
As Pam says, "Our goal has always been to be the premier utility in Colorado - in the United States, really - and to do that, we need to look out for the best interests of our members, and wildfire is a big part of that."
"You can see wildfire risk covers the vast majority of our service territory, and drought conditions across Colorado continue to get worse and worse each year, it seems," Pam explains. "And from a personal standpoint, one of those darkest red areas [on the map above] is actually where I live within the service territory. This stuff doesn't just affect me from a business perspective; it affects me from a personal perspective, like it does a lot of people across the U.S."
Click the map (or here) to hear more about CORE's challenges in Pam's own words.
How Pam & CORE are tackling the challenge of wildfires
With the help of AEM, Pam and her team were able to build a custom fire weather monitoring and wildfire detection network that was scaled to their specific goals. They created a solution that offered both a big-picture view of wildfire risk across CORE's service area and real-time visual snapshots of conditions in key areas of strategic importance or elevated wildfire risk.
Here's how Pam explains it:
Pam and CORE collaborated with AEM to create a wildfire monitoring, detection, and notification solution that included:
How CORE's leadership is making Colorado safer & better
CORE's wildfire monitoring and detection network is one of many tools that Pam's operations team of employees and contractors now use on a daily basis to work smarter, safer, and in a more community-minded way.
Additionally, CORE is delivering more value than ever to their nearly 170,000 member-owners by filling in the gaps in municipal weather networks to increase forecasting capacity and notification capabilities for local communities when wildfires or weather-related threats approach.
CORE has emerged as a leader in Colorado when it comes to fostering weather-readiness across the community. They're making their service area more resilient to emerging challenges by:
Mitigating wildfire impacts: CORE can detect wildfire ignitions faster, accelerating firefighting efforts and reducing the overall likelihood of a major fire in their service area
Safeguarding critical infrastructure: CORE can monitor and forecast wildfire movement better than before to ensure generation and transmission equipment is managed and protected accordingly
Minimizing service interruptions: Through improved fire detection, monitoring, and mitigation capabilities, CORE has reduced the likelihood of a wildfire-related service interruption for their members
Enabling better interagency collaboration: With better visual intelligence and weather data, CORE can communicate with local fire districts and land management agencies more clearly and effectively
Protecting workers and members: With automated notification technologies, CORE can let workers and member-owners know when to be on watch for wildfire ignition, when to take shelter, when to evacuate, and beyond
Learn more about CORE's wildfire strategy
To get the full story, be sure to check out our full sit-down interview with Pam Feuerstein, CORE's COO. The session is a concise, powerful nine minutes focused on utility wildfire challenges and solutions.
If you're where Pam was at the beginning of her journey and looking for a partner who can help you understand how to strengthen your approach to wildfire risk management from end-to-end, AEM can help. Our approach is designed to help utilities deploy wildfire weather monitoring and detection networks rapidly and at scale, regardless of the number of end customers or the square mileage of the service area.
When it comes to what really separates AEM from the competition, we'll let Pam say it for us:
"The ease of working with AEM was very attractive to us… Getting our network up and operational was a very quick process... The way that AEM is working to add additional technologies to their camera network and always looking to bring more things to the table is key for us."
-- Pam Feuerstein
COO
CORE Electric Cooperative
If you want to learn more about the CORE Electric Cooperative story, AEM's approach to severe weather, flood, and wildfire risk management tools for utilities, contact us today, and a member of our team will reach out to you to start a personalized conversation.