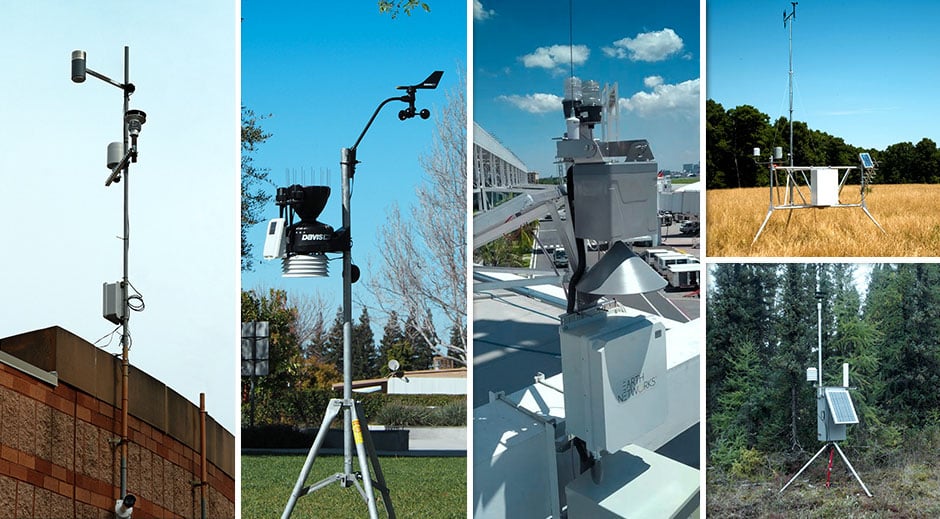 As severe weather events continue to increase in frequency and severity, more and more businesses, agencies, and individuals are taking an interest in the conditions around them. Increasingly, people are embracing proactive weather monitoring so they can understand how the world is changing and what they need to do to respond.
Since weather monitoring is new to many of us, finding the right weather station and best weather monitoring software for your needs can be daunting. This guide is designed to demystify the environmental monitoring space and help you understand what kind of system is right for your situation.
Moving forward, we'll explore:
How to identify the best station and weather software for your needs

The features and capabilities of several sensors, stations, and weather software solutions from the AEM family of brands

Some frequently asked questions about weather stations and weather display software
Key considerations when choosing a weather station & software
One of the biggest mistakes you can make in the environmental monitoring space is purchasing the first product you see that calls itself a weather station. That's because the ideal weather station and software system for you is one that's aligned with your specific goals and needs.
In order to know what kind of weather monitoring software and sensors are right for you, you need to carry out a brief self-assessment. Here are the top five questions you should be able to answer before you start looking at any stations or weather display software:
What weather factors/events are you interested in?
What's important to you? Are you focused on temperature, rainfall, wind, or something else? Are you hoping to gather day-to-day data or build a narrative about major weather events (like a big storm)? Before you start shopping, make a list of all the factors you're hoping to measure.
What's your weather monitoring application or use case?
What are you using this station and software for? Are you forecasting or just observing? Do you want to monitor conditions in your personal garden, or are you trying to ensure a hydroelectric dam doesn't fail during a major storm? Your application will influence the factors you need to measure as well as the kind of interpretation software you'll need to put the data to use.

How many weather stations (and other sources) are you pulling data from?
Are you looking to gather and analyze data for a specific location, a generalized area, or a variety of separate sites? The answer to that question will tell you how many stations you need and what kind of software you need to carry out your analysis.
What are you looking to do with your weather station data?
Do you want to create a personal weather dashboard for yourself? Do you have a group of colleagues you need to extend this data to for research or a team of field service workers you need to tell when bad weather is headed their way? Your goals for data transmission and sharing will be key to determining the best weather station software for you.
How will your weather software align with your risk management strategy?
If you're a business or a government agency doing weather-dependent work, you need an overarching severe weather risk management and resiliency plan. That plan should be in place, at least in draft form, before you begin shopping for stations and professional weather software because the plan will tell you exactly what you need in terms of data gathering, visualization, and communication technology.
Choosing the best professional weather station for your needs
Once you've answered the five questions above, you'll have a high-level understanding of your environmental monitoring goals. The next step is to find a solution that aligns with those exact needs.
Your solution requires at least two key pieces: a station or network of stations with which to gather data and weather visualization software with which to analyze and share it. Here are some examples of top weather station hardware from the AEM family of brands. Each one is tailored for use in specific applications or industries:
The Vantage Vue
The Vantage Vue is one of the most popular personal weather stations on the market because it can transform anybody into an amateur weather scientist. It's incredibly easy to install and maintain, and its corrosion-proof sensor suite is built to take all the weather your location and application can dish out.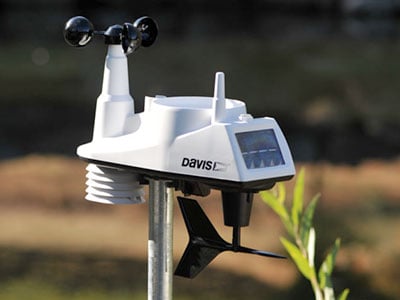 Features:
Sensors: anemometer (for wind speed/direction), rain collector, temperature and humidity
Data Transmission: spread-spectrum radio transmission up to 1,000 ft.
Data Visualization Software: Handheld console or WeatherLink Cloud (with additional data collector)
Ideal Applications:
Indoor or outdoor gardening
On-site weather monitoring for small business
The Vantage Pro2
The Vantage Pro2 is an industrial-grade weather station that provides a boost in measurement range, capability, and accuracy compared to the Vantage Vue while providing the same ease-of-use. The Vantage Pro2 is ideal for situations where you need to map a given acreage, municipality, or region with a network of weather stations for study.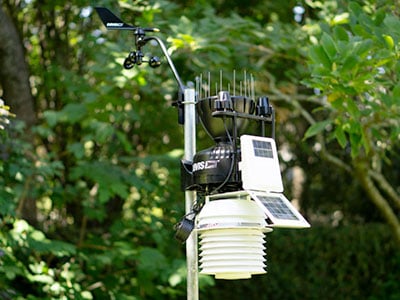 Features:
Sensors: anemometer with 30ft deployment range (for wind speed/direction), rain collector, temperature and humidity, solar & UV radiation, and more
Data Transmission: spread-spectrum radio transmission up to 1,000 ft.; solar-powered wireless or cabled upload to Cloud
Data Visualization Software: Handheld console or WeatherLink Cloud (see below)
Ideal Applications:
Agriculture & farming
Scientific research & mesonet creation
Personal weather monitoring
The u[sonic] WS7
The WS7 is the newest, most compact, and most intelligent weather sensor available through the AEM family of brands. Instead of using traditional anemometers with moving parts, the WS7 measures wind speed and direction with ultrasound sensors and has intelligent self-heating to stand up to the coldest and windiest applications.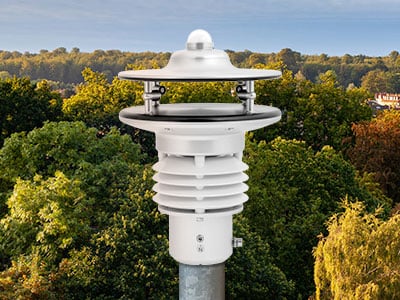 Features:
Sensors: wind direction and speed, air temperature, relative humidity, barometric pressure, global radiation, dew point
Data Transmission: Real-time data upload and visualization via met[LOG] or Ser[LOG] data loggers
Data Visualization Software: Uses MeteoWare-CS3 (see below)
Ideal Applications:
Power plants & large-scale industrial facilities
The Remote Automated Weather Station (RAWS)
The RAWS is a weather station specifically designed to monitor conditions in wildfire-prone areas to improve fire danger rating capabilities and increase overall situational awareness about weather risks. FTS offers both fixed and portable versions of the RAWS, allowing for both long-term strategic monitoring and rapid deployment on an as-needed basis.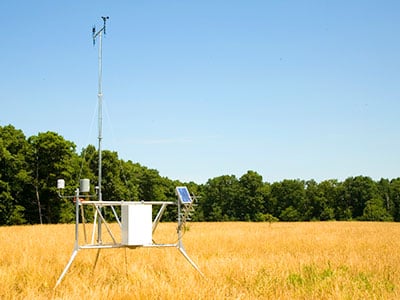 Features:
Sensors:

Barometric pressure, all-weather precipitation, soil moisture, air quality, ultrasonic wind speed & direction, turbidity, snow depth, pressure, soil temperature,

water level, and visibility

Data Transmission:

Satellite transmission

via GOES,

Ubicom Cellular/Iridium

or local data upload from

Axiom data logger

to USB

Data Visualization Software:

Remotely via FTS360 (see below)

or directly through Axiom logger
Ideal Applications:
Fire weather monitoring

&

post-wildfire

flood monitoring

Emergency resp

onse

, where rapid deployment of new stations to the field is necessary

Forestry & resource management



The Compact Automated Weather Station (CAWS)
The CAWS is designed to improve operational and disaster response time with quality, real-time, localized environmental data. It can be deployed easily in a variety of settings and fitted with whichever sensors are required to collect crucial information that supports prompt, intelligent decision making.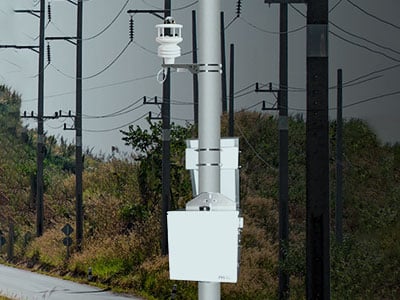 Features:
Sensors:

Temperature, wind speed & direction, humidity, barometric pressure, dew point, and beyond as needed

Data Transmission:

Satellite transmission

via GOES,

Ubicom Cellular/Iridium

or local data upload from

Axiom logger

to USB

Data Visualization Software:

Remotely via FTS360 (see below) or directly through Axiom logger
Ideal Applications:
Choosing the best weather monitoring software
Shopping for hardware is relatively easy – you look at the specifications and measurement ranges, you check customer satisfaction, and you assess cost against your budget. Picking the professional weather software suite that's going to squeeze the actionable data out of that station and turn it into decisions can be much more challenging.

Again, your goals and application should be the main drivers behind what software you select. At the same time, ensuring compatibility between your stations and software is also essential to be sure you're building a solution that will work for you.
Here are five examples that illustrate the variety of great weather software offerings available through AEM and give you a sense of the specialization that's out there in the marketplace:
WeatherLink
The WeatherLink.com platform and WeatherLink App allow users of Davis Instruments' stations and sensors to view, analyze, and share weather data on the largest global network of personal weather stations. Users can build and customize a bulletin dashboard to view current updates and review data from around the world.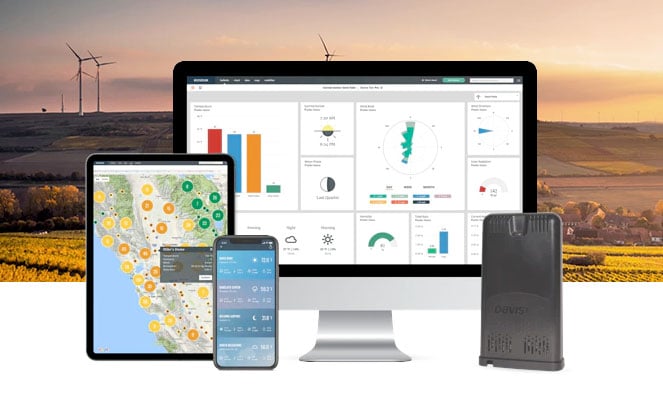 Key Features & Specs:
24/7/365 data gathering and visualization using a desktop, tablet, or smartphone
Access to a global network of reliable weather data

Simplified collaboration by sharing, extending, and embedding weather station data
Best For:
Individuals and businesses with a small number of stations looking to collaborate with a wider network

Farmers looking to visualize in-field data to inform daily decision-making

Creating personal weather reports/dashboards for your specific area and station data
Contrail
Contrail provides a suite of situational awareness and decision support tools that help those tasked with assessing hydro-meteorological hazard risks. An enterprise-level software, it is specifically designed to meet the demands of mission-critical early warning systems.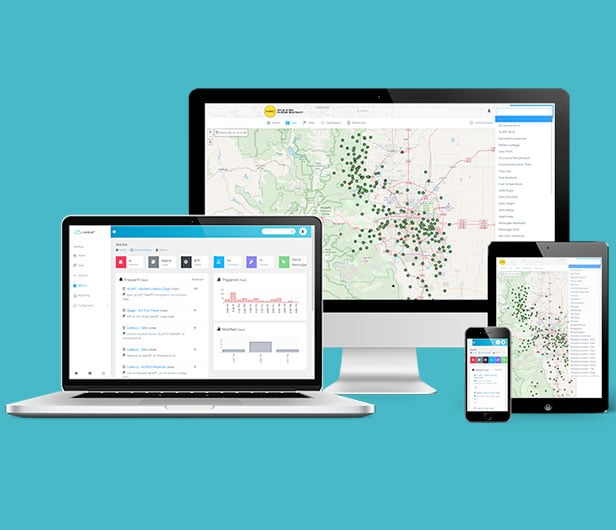 Key Features & Specs:
Detailed historical and real-time sensor monitoring information from any number of sources, sensors and sensor types

Advanced customizable alarm and notification system for early warnings

24/7 data visualization and reports available on any device
Best For:
Government agencies like water districts, watershed management teams, public works departments, and dam safety organizations

Creating a flood risk and weather-related hazards early warning system

Monitoring and presenting hydromet data in a variety of highly visual ways
Sferic Connect
Sferic Connect is a professional weather software solution that transforms data from your stations and other sources into hourly local forecasts and unmissable weather alerts and alarms that your team can rely on. Sferic Connect is specifically designed to help businesses managing large teams translate weather updates into decisive action.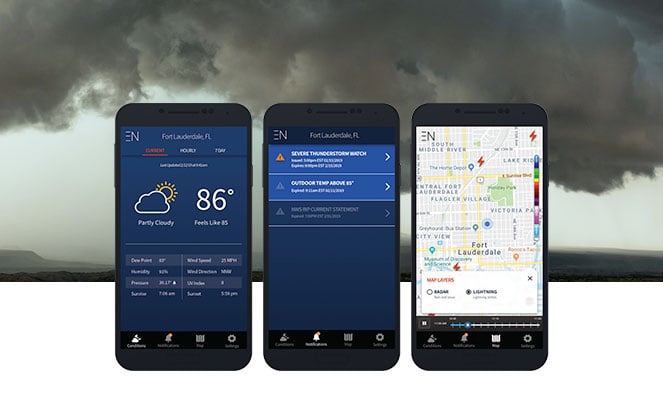 Key Features & Specs:
Digestible high-accuracy forecasts through a simple mobile interface

Role-based alert configuration to optimize weather-related communications

Live conditions and real-time storm tracking to increase situational awareness
Best For:
Large teams working a variety of outdoor contexts, such as in the aviation or utility industry

Addressing the communication needs of a comprehensive severe weather risk strategy

Providing clear, straightforward alerts about when to start, stop, and resume work
FTS360
FTS360 is a secure and reliable cloud-based IoT platform that allows users to view and curate sensor and station data, camera images, and video. It provides a customizable, agile programming environment for advanced calculations, intelligent alerting, and full configuration capabilities.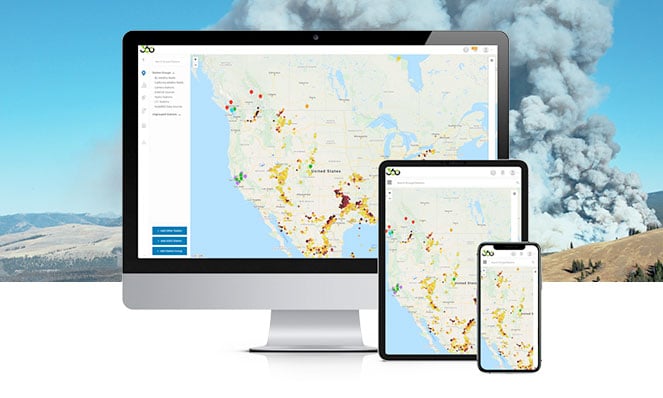 Key Features & Specs:
Real-time 360-degree views from cameras in the field in addition to weather station data

Allows for creation of user-configured custom programs (configure APIs, create alerts, export data for analysis, etc.)

End-to-end data encryption to ensure the security of your data, images, and communications
Best For:
Government agencies or utility companies monitoring infrastructure in fire-prone areas

Creating a visual, data-rich narrative about weather and fire events that can be shared easily

Monitoring a wide range of weather factors (lightning, air quality, temperature, etc.)
MeteoWare CS3
The MeteoWare CS3 app for Windows desktops provides support for the acquisition, provision, analysis, visualization, and archiving of large volumes of data. Those capabilities, combined with MeteoWare CS3's modular scalability, make it an ideal software solution for long-term weather study.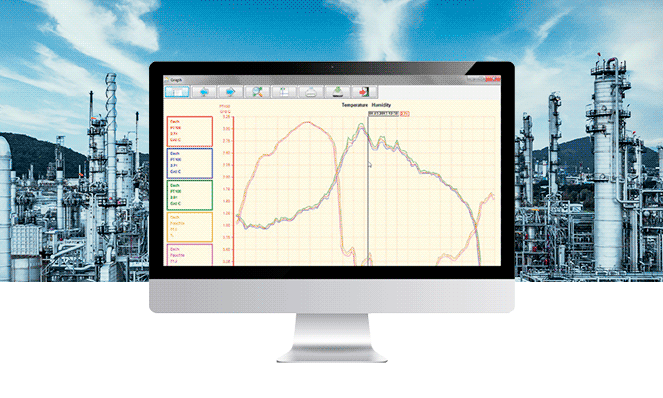 Key Features & Specs:
Configurable custom dashboards that present weather data in a highly visual manner

Compatibility with a wide variety of sensors, stations, and data gathering tools
Highly scalable, supporting 1 to 999 user(s) and 1 to 999 station(s)/logger(s)
Best For:
Scientists, businesses, and government agencies looking to carry out long-term local weather studies

Transforming weather data into an at-a-glance dashboard for monitoring and analysis

Graphing data to create detailed historical reports
Frequently Asked Questions (FAQ) about weather stations & weather software
Before we wrap this discussion up, let's tackle some of the questions we get all the time from people starting to get interested in weather stations and weather visualization software:
What is a professional weather station?
Generally speaking, weather stations for professional or scientific applications measure a wider array of conditions and factors to higher degrees of accuracy compared to consumer stations. In some cases, physical differences in hardware allow for more scientific measurement.
For example, the Davis Vantage Vue's anemometer is mounted directly onto the unit, whereas the Vantage Pro2's wired anemometer can be lofted up to 30 feet in the air, allowing for greater accuracy. Some precipitation collectors only accurately measure rain, while other more scientific sensors are self-heated to melt snow.
What's the most accurate weather station?
Unless you're a scientist yourself, visualizing fractions of a degree or the hundredths decimal place on a wind speed calculation probably aren't terribly important to you. If you're looking for a highly accurate personal weather station that's simple to install with easy-to-use software, we recommend the Vantage Pro2, which is widely recognized for its great measurement accuracy, especially relative to price.
If you are a scientist or a safety manager in a context where incredibly accurate weather data is crucial, the u[sonic] WS7 weather sensor provides ultra-high-accuracy measurement of temperature, humidity, pressure, wind speed and direction, and beyond using ultrasound sensors with no moving parts.
What is the best at-home weather station?
If you're a weather enthusiast, gardener, or amateur meteorologist looking to purchase your first station, we recommend the Vantage Vue. The Vantage Vue provides all the tools you need to measure temperature, humidity, dew point, wind speed and direction, wind chill, heat index, and barometric pressure. If you're looking for more customization, try the Vantage Pro2.
Let us help you find the best weather station software for you!
At AEM, we specialize in helping businesses and individuals make more empowered weather-dependent decisions so they can survive – and thrive – in the face of escalating environmental risks. We hope the guide above helped you understand the variety of professional weather software and hardware solutions that are currently making a difference for organizations and hobbyists around the world.
If you're interested in setting up a weather station for personal use or creating a severe weather risk management system for your business, contact us today!