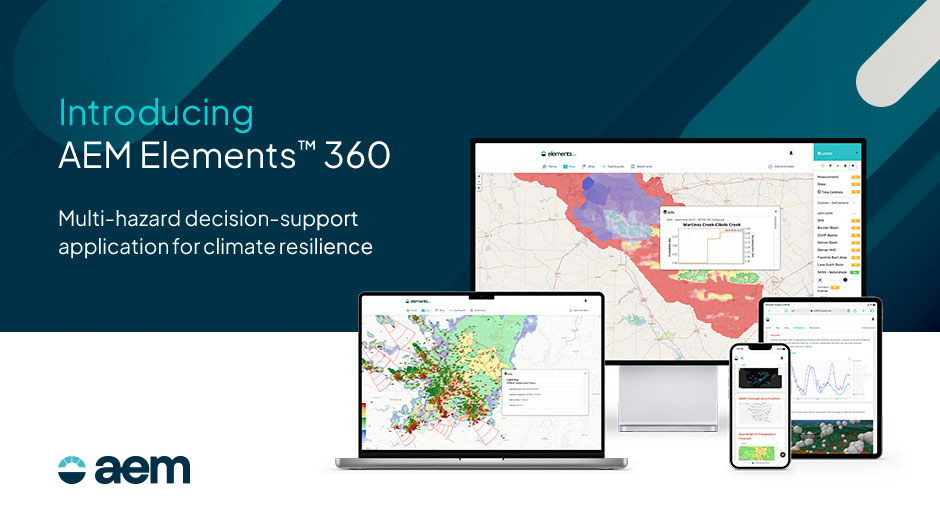 At Meteorological World Technology Expo 2023 in Geneva, Switzerland, AEM leadership team was proud to announce the launch of AEM Elements 360, the cornerstone application of the new AEM Elements Resiliency Platform.

Moving forward, we'll:
What is AEM Elements 360?
The AEM Elements 360 climate change resiliency application is a comprehensive decision-making command center for managing a wide variety of environmental hazard risks. This innovative tool is the product of extensive research and development aimed at strengthening environmental risk response strategies across agencies and communities. It is designed to foster effective collaboration, making the process of event management more coordinated and efficient.
A single software solution for weather, environmental, & climate risk management
What really sets AEM Elements 360 apart is its multi-hazard capabilities. That means community leaders, emergency responders, and disaster response professionals can use a single application for various natural hazard risks, including flooding, severe weather, wildfires, lightning strikes, post-wildfire debris flows, landslides, and other downstream effects of climate change. Through built-in early warning systems, the application provides crucial information that can help mitigate the impact of these hazards, ultimately safeguarding lives and minimizing damage to critical infrastructure.
A comprehensive dashboard that merges diverse data to improve real-time situational awareness
The AEM Elements 360 application doesn't just provide weather and environmental data; it specifically exists to help users convert that data into action to protect communities and infrastructure.

The application seamlessly transforms a diverse range of data into actionable insights. By integrating data from in-house networks, AEM's proprietary networks, and virtually any environmental data source, the application offers complete real-time insights. It is equipped with powerful analytics, data integration capabilities, customizable dashboards, and programmable alerts. These tools allow users to transform complex data into easy-to-understand intelligence through configurable maps, charts, and dashboards tailored to their specific areas of interest.
An alerting framework that helps you turn real-time data into action
The application's alert system is particularly notable. Customizable alerts based on location-specific thresholds, rules, and conditions are designed to deliver immediate notifications, prompting quick action when necessary. This feature not only enhances the user's ability to respond promptly but also contributes to operational resilience.
See the power & potential of AEM Elements 360 for yourself
AEM Elements 360 offers a versatile suite of configurable maps, charts, dashboards, and analytics that are tailored to user needs, applications, and challenges. In this way, the application breaks complex environmental phenomena down in a visual and outcome-centric manner.
In our latest webinar, our Director of Software Product Management, Mike Zucosky, walks through how the application eliminates common bottlenecks (such as fragmented data and reliance on disparate single-purpose applications), improves early warnings and situational awareness, and strengthens response coordination for natural disaster risk management.
This is your chance to see AEM Elements 360 demonstrated by the lead developer who guided the application from inception to launch.
High-accuracy pinpoint forecasts
One of AEM Elements 360's notable features is ENCast, our AI-driven pinpoint forecast engine. ENCast provides a high-accuracy forecast for your exact location every 15 minutes for the next 15 days, enabling weather-minded leadership as well as advance notice and key strategic planning time for severe weather events.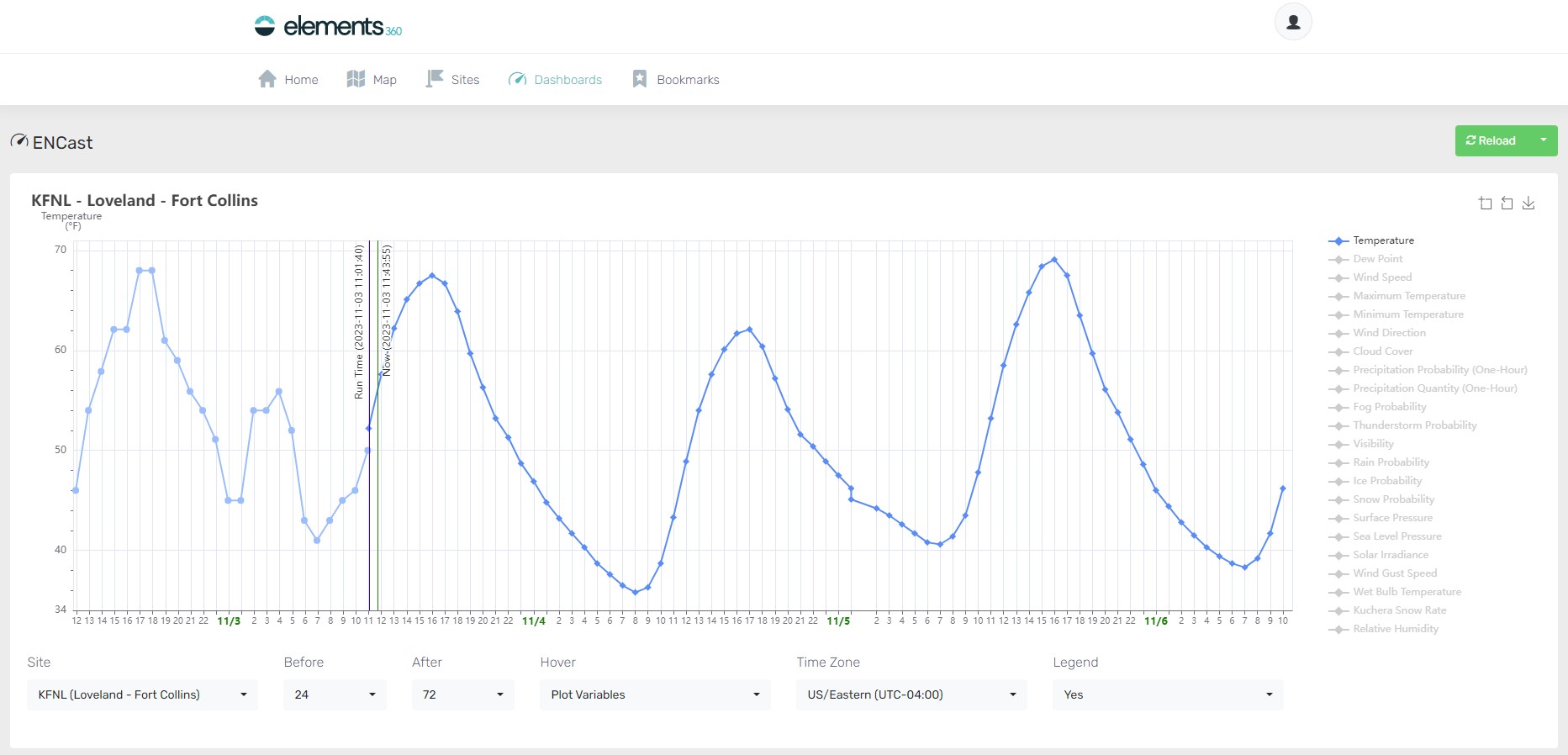 AEM Elements 360 also includes Gauge-Adjusted Radar Rainfall (GARR)-powered forecasts for any location on the globe, allowing municipal and business leaders to assess incoming storms and create early flood warnings that protect people and property.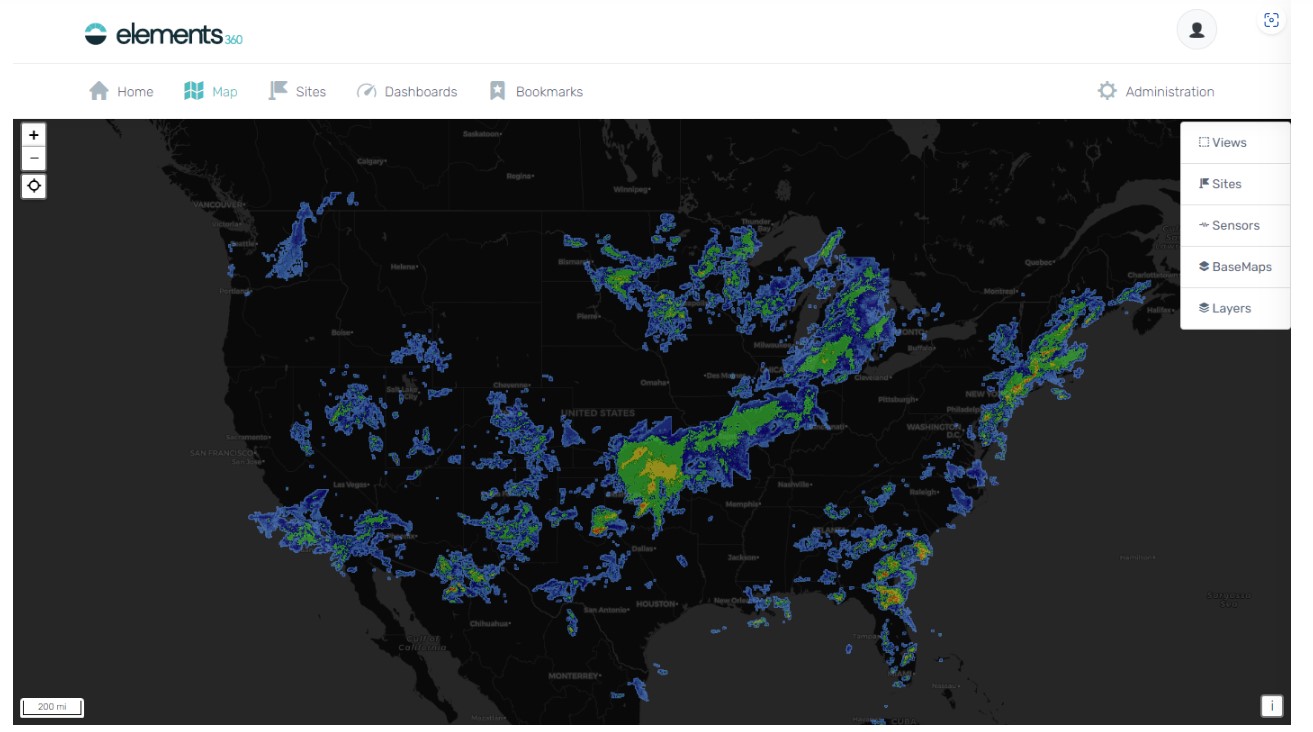 Real-time weather monitoring & threat detection
When it comes to environmental and climate resilience, it's key to understand evolving risks in real time. AEM Elements 360 brings a wealth of real-time data to users' fingertips, drawing on the global power of AEM's proprietary sensor networks as well as users' own local monitoring networks.
Lightning monitoring capabilities in AEM Elements 360 allow users to visualize each individual strike in their area with a clear visual presentation of how great a risk that lightning presents to their service area or worksite. That data, along with forecasts, can help communities protect critical infrastructure and identify possible wildfire ignitions.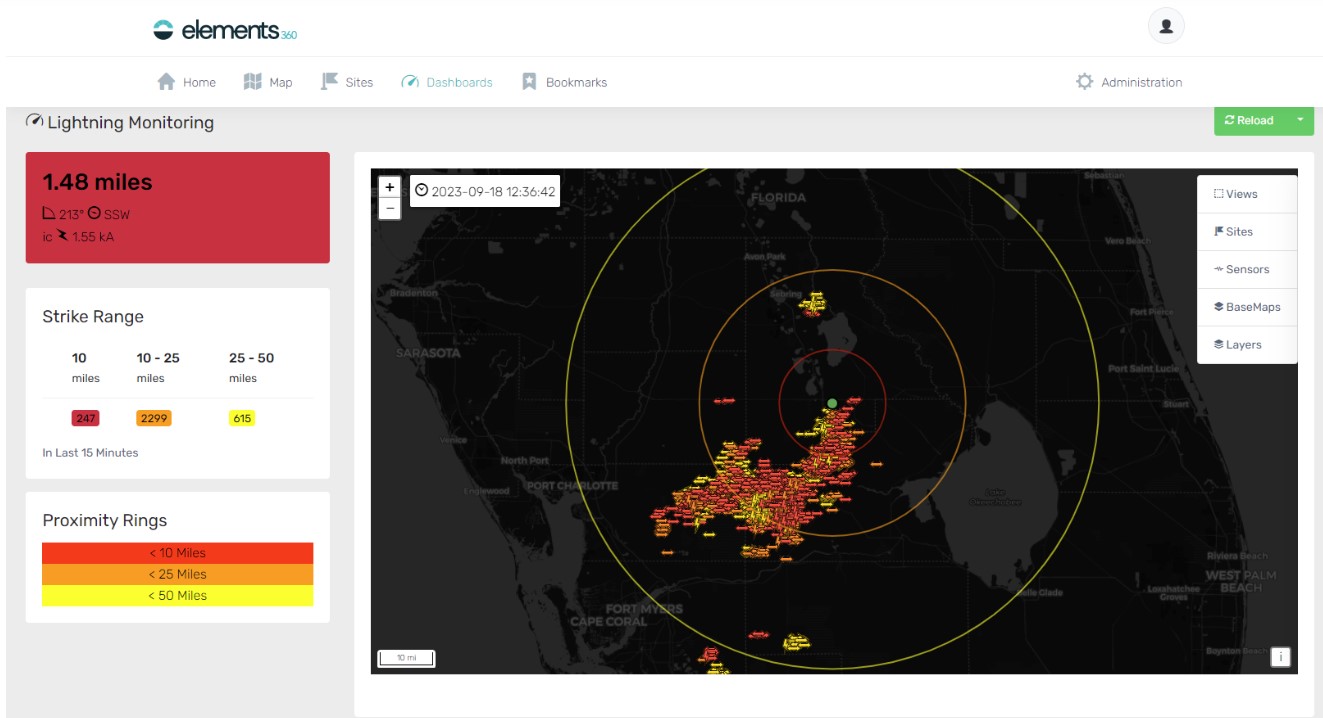 In wildfire monitoring scenarios, real-time lightning monitoring data can be cross-referenced with live images from wildfire cameras in the field directly within AEM Elements 360, allowing for high-level risk assessments to be made within seconds. That data can easily be extended to collaborating agencies to support timely in-person assessment and mitigation.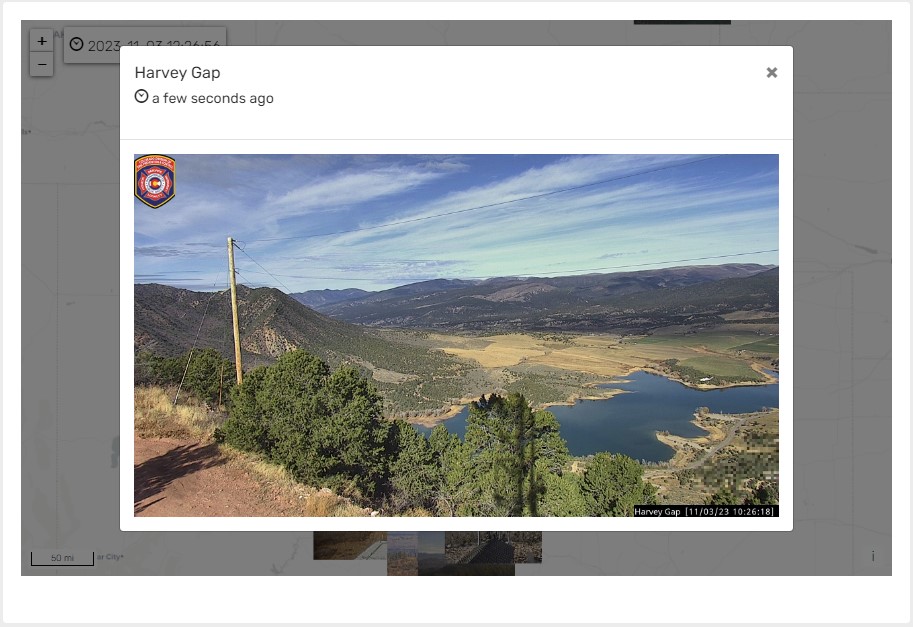 Local monitoring network visualization
Part of what makes AEM Elements 360 so powerful is that it combines best-in-class global environmental data with existing local monitoring networks that are designed with application-specific purposes, presenting both side-by-side in ways that lead to actual difference-making insights.
For example, here's a map representing a network of Remoted Automated Weather Stations (RAWS) in Colorado. Each circle is a monitoring site. Each triangle is a station that's become disconnected from the network and may require maintenance. This information is just a single click away from the forecast for the same area.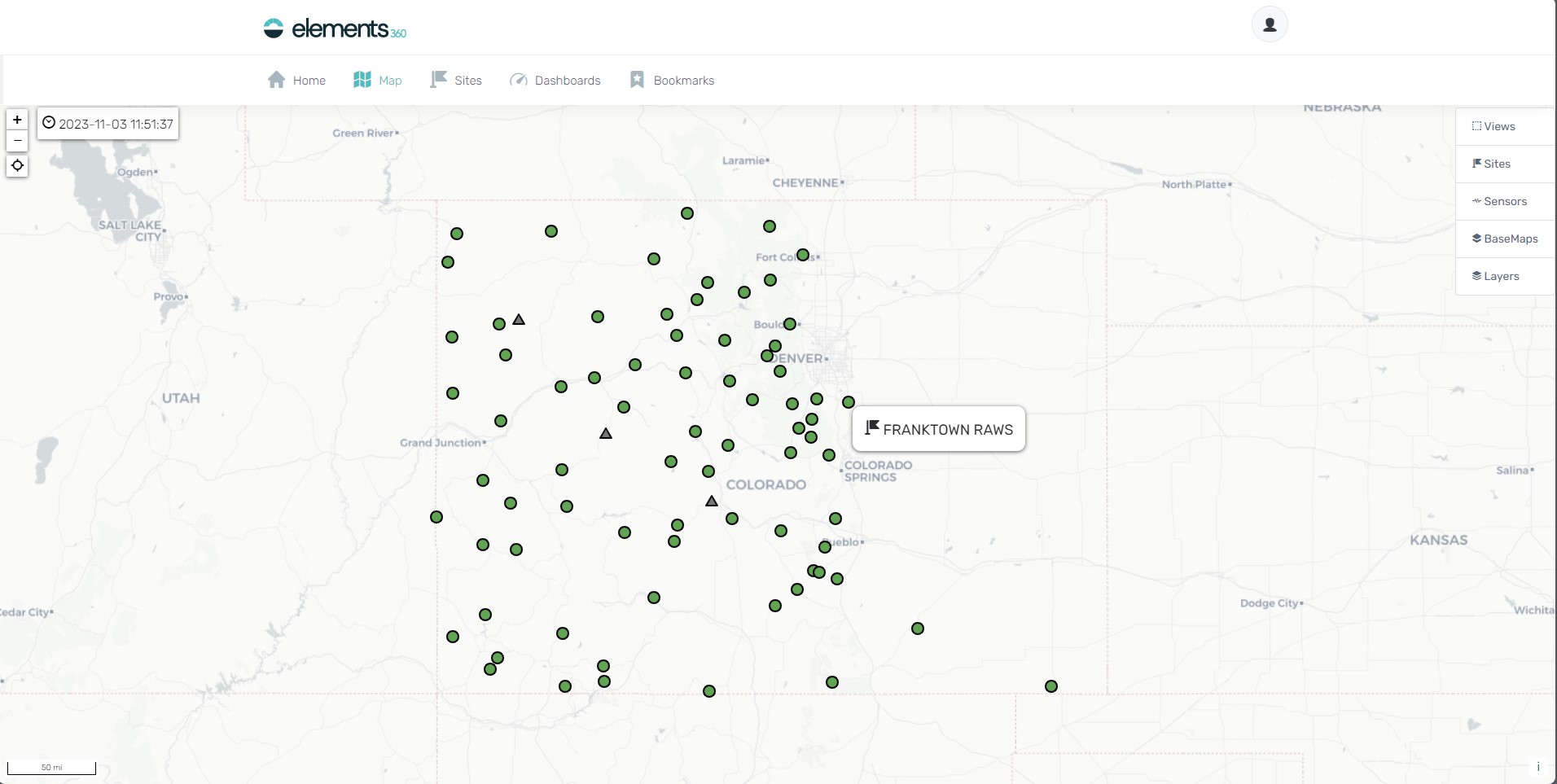 In addition to visualizing the network as a whole, AEM Elements 360 provides a detailed real-time report for each individual weather station site, offering insights into specific temperature, wind, and precipitation, as well as an accurate report on power supply to help prevent station downtime.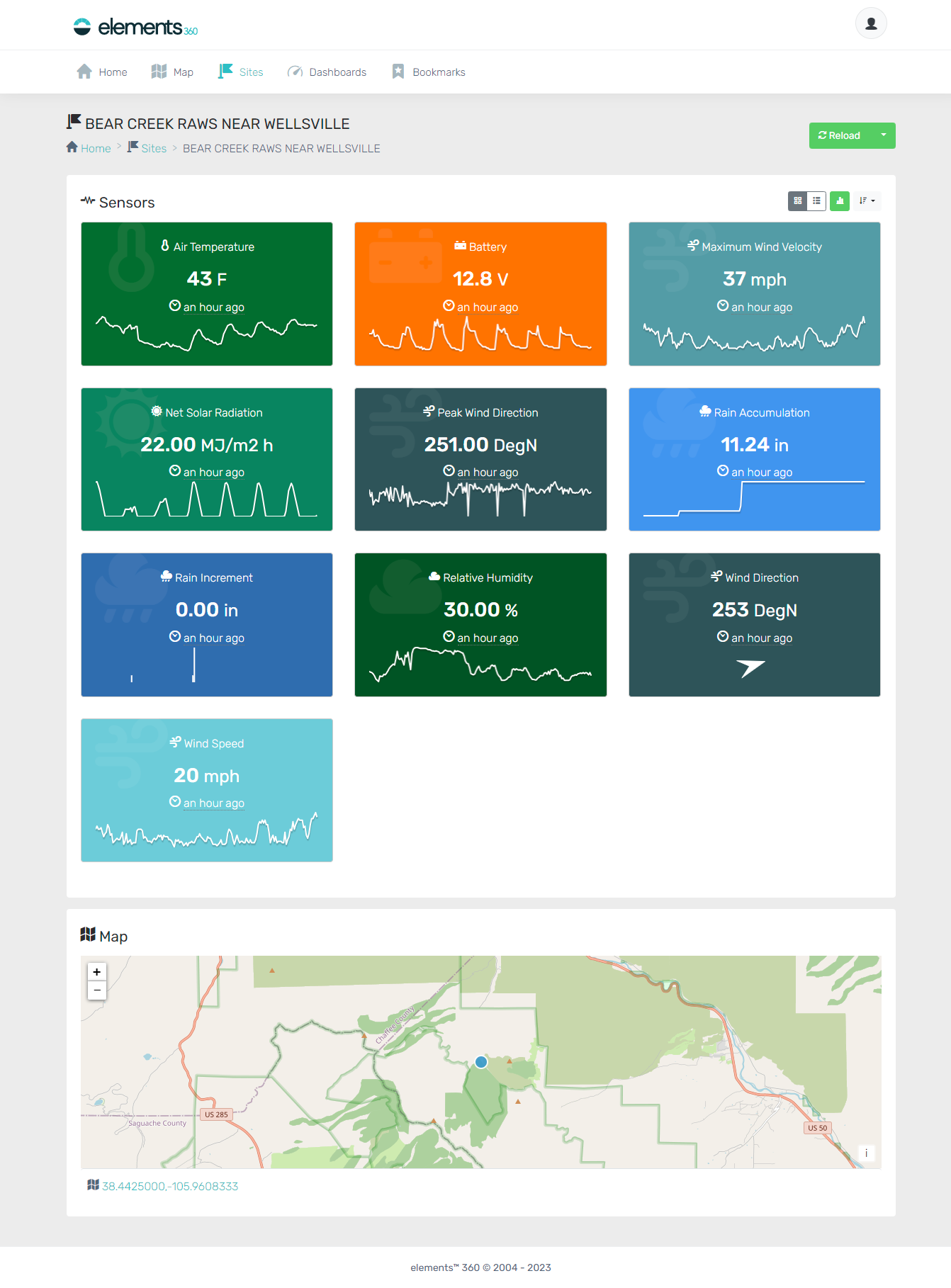 The data from the entire network can also be aggregated into a highly visual dashboard that brings the most important information to the forefront for review, analysis, and decision-making. Each instance of AEM Elements 360 is flexible, enabling specialized dashboards for flood monitoring, wildfire detection, dam safety, and more. Whatever your public safety, business, or monitoring goal, AEM Elements 360 is built to help you achieve it.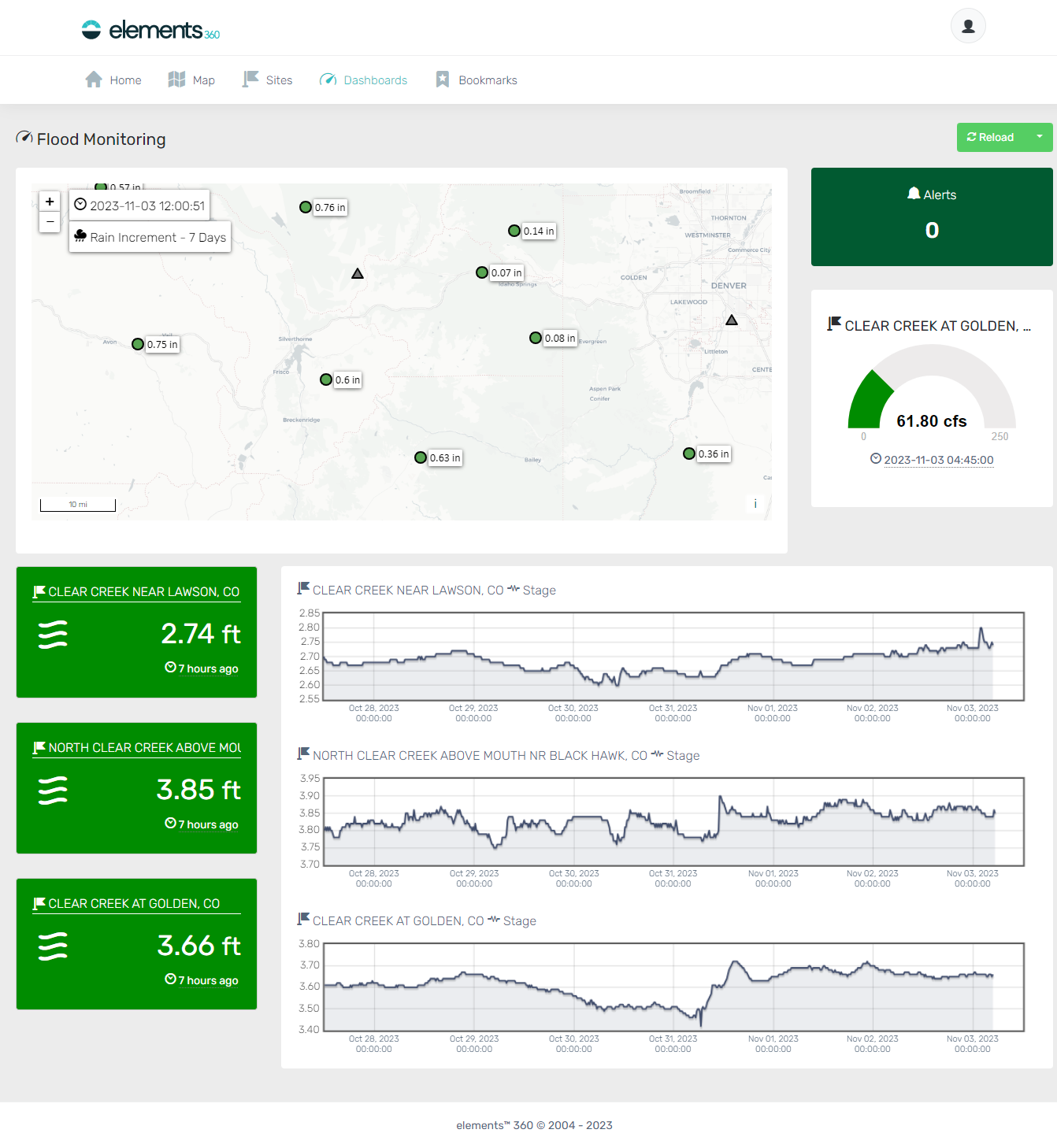 In essence, the AEM Elements 360 climate change resiliency application is more than a tool; it is a strategic ally in effectively managing natural hazard risks. By providing enhanced decision support, advanced collaboration tools, and the capacity to convert data into action, this application empowers users to face environmental challenges head-on, creating a stronger and more resilient future.
Get a personalized demo of AEM Elements 360
If you're ready to see firsthand how AEM Elements 360 can transform your monitoring, risk detection, response, and collaboration capabilities, you can schedule a one-on-one demonstration of the application today. That 30-minute session will be tailored to your situation, needs, and potential use cases. We'll help you see exactly how AEM Elements 360 will deliver value to your team and community and help build climate resilience.