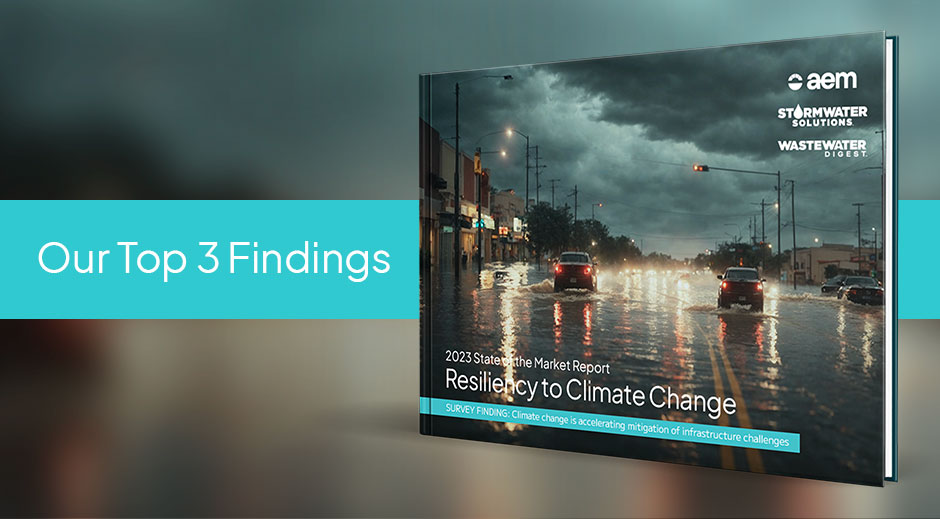 As part of our mission to help communities build climate resilience, we sought to benchmark the current state of public water systems across the U.S.
Working with Stormwater Solutions and Wastewater Digest, we surveyed 256 water leaders this summer, 54% of whom work at the municipal, county, or state level, 25% of whom work for private engineering and consulting firms that design and support public systems, and 10% of whom work for construction or contracting companies specializing in water infrastructure. Our goal was to learn more about the current state, goals, and challenges facing local water leaders, particularly in the area of climate resilience.
You can read the full 2023 State of Market Report: Resiliency to Climate Change here. This blog is designed to provide a high-level overview of our three key takeaways:
Most public water and wastewater systems across the United States are not designed or ready for today's climate realities
Public water leaders generally know what kind of tools and technologies they need to protect their systems better in the face of environmental risks
Finding #1: Public water leaders know their systems aren't designed for today's volatile, variable climate
According to our survey, the average age of stormwater or wastewater infrastructure across the U.S. is 56 years, and the average planned lifespan is 49 years. Half of respondents said their system was designed more than 50 years ago.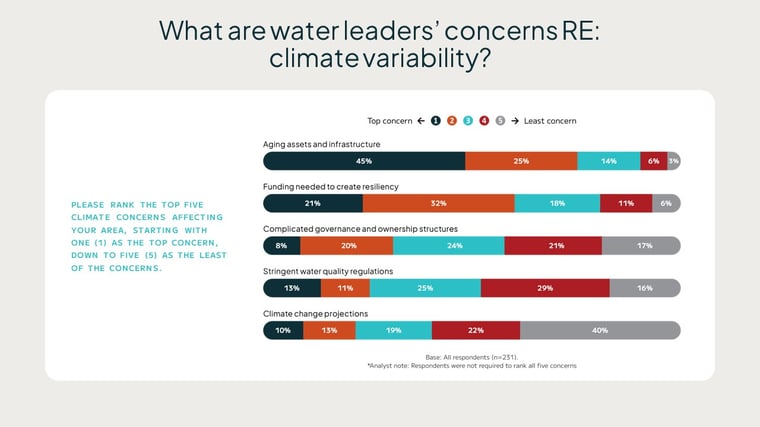 70% of our water experts said aging assets and infrastructure was either their biggest or second biggest concern when it comes to climate. 82% agree that additional rainfall and stormwater from increasing major weather events pose a growing threat to their system and public safety. This isn't a crisis yet, but it's the calm before the storm.
Finding #2: Public water leaders know what technology they need to increase climate resilience
Given that the experts agree action is required, we asked survey participants to identify the top three tech tools and services that they use or plan on using to fight back against climate change and variability. The general consensus was that high-quality sensors for environmental monitoring and reliable weather and precipitation forecasts are the most valuable tools for community climate resilience.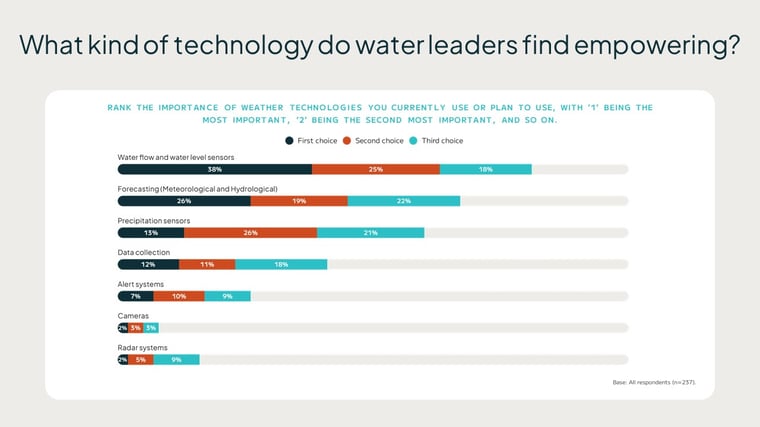 These results show that most water leaders across the country agree that a robust sensor network and accurate forecasting capabilities are the core tools for the job of climate resilience. It's not that environmental variability is a mysterious challenge whose solution is unknown; most local water engineers and managers know exactly what kind of intelligence they need to take their approach to the next level, it's just a matter of accessibility.

Finding #3: Public water leaders say funding and education are their biggest hurdles to improvement
In light of Finding #2, there should be no problem updating our approach to local water management in the face of climate change, right? Well, no. Even though most of the experts we talked to know exactly what tools and technologies they need, many of them lack confidence they have the budget they need to do an outstanding job.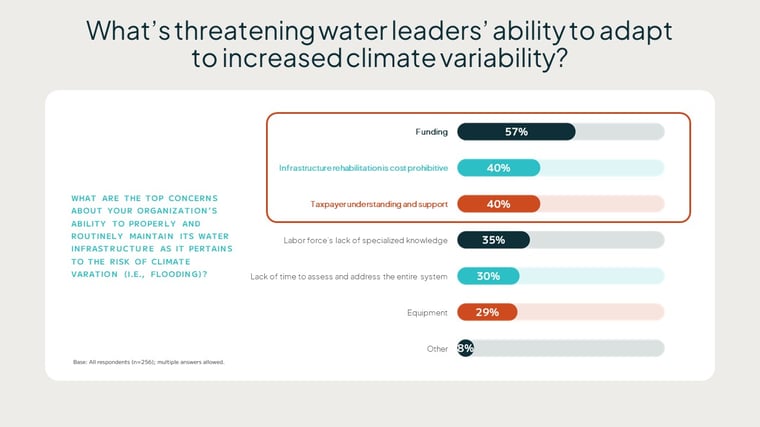 As the results of the survey illustrate, water leaders have a strong understanding of what they need to do, but until the public knowledge and concern about the issue reach a critical mass, it's difficult to get anything done beyond reactive maintenance. Given these findings, it's more crucial than ever that water management leaders (and the engineers and solution providers who support them) take a proactive approach to educating the public and politicians they serve about the realities of climate change and variation.
Get a personalized readout of our report
If you're in public water or wastewater management and aren't confident (or don't know how confident to feel) about your system's ability to manage the realities of our changing and various climate, this is the perfect time to get a conversation started with a climate-minded system designer that's deep in this work.
Our AEM water management and flood readiness team has been involved in the assessment, design, development, and implementation of more than 200 automated flood early warning and environmental monitoring systems across the U.S. and abroad. They've also led numerous consulting studies relating to rainfall and hydrologic analysis, flooding, stormwater, dam safety hydrology, and water resource management. And they created the survey that our 256 participants answered to create this snapshot of public water systems across the U.S.
If you're trying to find a clear path forward in the face of all this climate chaos, just reach out today and request a personalized readout of the report with a water specialist. We'll help you connect the dots, understand what this means for your community and system, and start to identify some steps you can take toward improvement at scale.